Fresh Fig Banana Smoothie :
Fresh Fig Banana Smoothie it is creamy and so perfectly sweet, without any sweetener at all. This fig banana smoothie is a simple, delightful treat, especially on a hot summer afternoon. Fresh Fig Banana Smoothie is healthy and easy to make a yummy smoothie for this you just needed to Place the bananas, figs, milk, and milk in a blender. Cover, and puree until smooth and creamy.your refreshing Fresh fig and Banana Smoothie is ready to serve.
Health Benefit of banana and Fig:
Bananas are an excellent source of micronutrients, especially potassium and vitamin B6, vitamin C, fibre and carbohydrate.
Figs are a rich source of fibres, minerals including potassium, calcium, magnesium, iron and copper and are a good source of antioxidant vitamins A, E and K etc.
Banana and figs both contain high fibre, which promotes satiety feelings, lowers cholesterol and prevents constipation and normalises bowel function. Both are rich in Potassium, which helps to regulate heart function as well as fluid balance, it also helps in lowering blood pressure and protecting against heart disease and strokes.
Banana and fig both are a good source of phosphorus and calcium. These 2 nutrients work closely together to build strong bones and teeth so they are needed for the body's growth, bones and function.
More smoothies from this blog you might like please do check: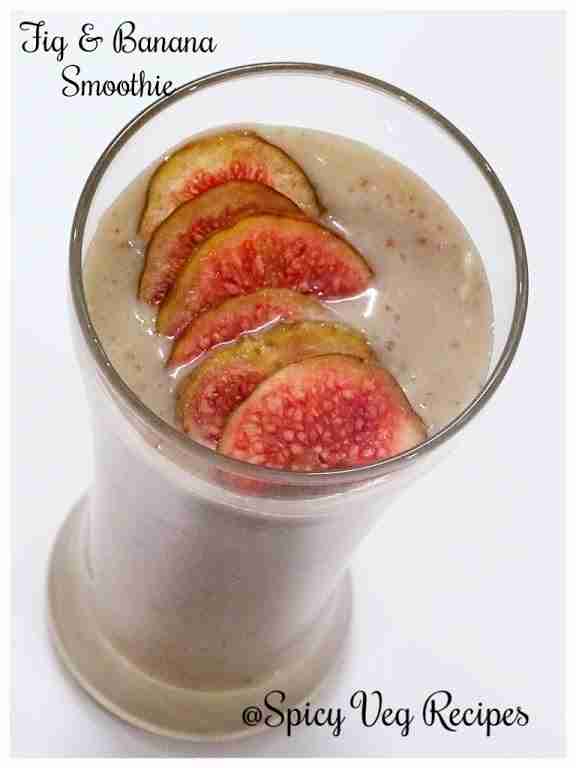 Fresh Fig and Banana Smoothie
Main Ingredients: fresh fig, banana, and milk
Level of cooking: Easy
Taste: sweet
Recipe Type:
beverages &drinks
Ingredients
1

cup

whole milk

/Soya Milk/Almond milk

1

Ripe banana

frozen, cut into chunks

1/2

cup

fresh  figs

quartered (remove stem first)

1-2

teaspoons

honey

or sugar, optional

1/2

cup

Ice cubes

optional
Instructions
Place banana honey or sugar and fig into a blender.

Blend all the ingredients until smooth.

Add milk and blend, it again for a few seconds.

Now Fresh fig banana smoothie is ready to serve.

Pour into the glass and Serve immediately.
Recipe Notes
You could add some spices like cinnamon or cardamom if you wish.
Always serve chilled.
Enjoy!
If you liked this, please share. Thanks!
(Visited 133 times, 1 visits today)