How to make Aloo Ka Halwa | Falahari Aloo ka Halwa Recipe| Aloo Ka Halwa
Aloo Ka Halwa:
Aloo ka halwa is one of the most popular and delicious North Indian desserts, specially prepared during fasting. This is a phalahari dessert and can be eaten in the days of fasting as well. You can prepare this delicious dessert, easily and quickly with few ingredients, just by the mix of grated potatoes, ghee, milk and sugar. let's learn how to make Aloo ka halwa at home.
More recipes from this blog you might like please do check: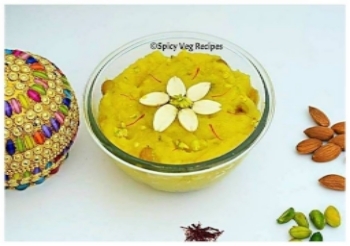 Aloo Ka Halwa Recipe
Main Ingredients: Potatoes and milk
Level Of Cooking: medium
Taste: Sweet
Calories Amount per serving
:
380
kcal
Ingredients
Ingredients for Aloo Ka Halwa Recipe
2

cups

potatoes

 boiled, peeled and grated or mashed

2

tablespoon 

ghee

1/4

cup

sugar or to taste

1

cup

milk

1/4

cup

mixed dry nuts

Chopped

1/4

teaspoon

green cardamom powder

pinch

strands of saffron
Instructions
Soak the saffron in a 1/4 cup warm milk.

Heat ghee in a heavy bottomed pan over the medium-low flame.

Add grated potatoes and sauté well.

sauté this on low-medium heat till it sweet aroma starts to come, *more you sauté the better the halwa tastes.

Add milk and sugar and mix well there should not any lumps.

Stir this till it leaves ghee or starts leaving the pan.

Add cardamom powder and saffron. mix well and cook for another 2 minutes.

aloo ka halwa is ready to serve.

Garnished with nuts and serve warm.
(Visited 57 times, 1 visits today)