Mango chia pudding | Mango sabja Pudding Parfait |mango basil seed pudding parfait
Mango Chia Pudding Parfait:
Mango Chia Pudding Parfait is a unique way to enjoy fresh mangoes. The combo of chia seed pudding and mango puree makes for a healthy breakfast or snack that's filling and delicious. Mango Chia pudding Parfit is so easy to make, it actually comes together in minutes. I prefer it once it has set overnight in the fridge but you don't have to wait that long. Chia seeds are packed with fibre, essential fats, and calcium. They don't have any flavour which makes them versatile. Chia seeds expand in water and work well as a thickening agent in smoothies.
Mango is one of my favourite fruits. It's high in sugar, like most fruit from the tropics and has many nutritional benefits. Mango is great for the skin as it is loaded with antioxidants. It also fights breast and colon cancers and has vision protecting properties. mango is obviously still great for snacking, but I've realized they're really fun to use in recipes as well. They add a delicious flavour, lovely colour and nutrition to a variety of dishes. I've done a couple fruit salads with mangoes, but today I'm going outside of the box with a Mango Chia Pudding Parfait.
Health Benefits of Mango:
Mangoes contain antioxidants such as quercetin, fisetin, isoquercitrin, astragalin, gallic acid and methyl gallate. All these properties protect our body against breast cancer, colon cancer, prostate cancer and leukaemia.
Mangoes help in controlling high cholesterol level because they contain a high level of vitamin C, fibre and pectin making it a perfect fruit.
Mangoes are enriched with tartaric and malic acid and contain traces of citric acid, it helps in maintaining the alkali reserve of our body.
Mangoes are also loaded with vitamin A, making it a perfect fruit to improve eyesight. It also prevents night blindness and dry eyes.
Mangoes also contain vitamin C, A and other different kinds of carotenoids. All these essential nutrients are beneficial for your immune system keeping it strong and healthy.
Mangoes are also loaded with fibrous content, it boosts the digestive function and burns unwanted calories from the body. This, in turn, helps in losing extra weight.
Health Benefits of Chia Seeds
Chia seeds are a good source of Omega 3 and Omega 6 fatty acids are essential fatty acids, meaning that you need to get from food sources because your body cannot produce them itself.
Omega 3's reduce inflammation and may help lower risk of chronic diseases such as heart disease, cancer, and arthritis. They're also said to help with weight reduction related to their regulation of blood sugar levels and insulin.
Chia seeds are enriched with plant-based protein as all of us know that protein is an essential macronutrient needed for many functions in the body, including muscle building.
Chia seeds contain antioxidants it helps rid our body of free radicals, which have been associated with cancer and heart disease.
Chia seeds are also loaded with Fibre, it Helps with weight loss by keeping you feeling full, prevents constipation and enhances regularity.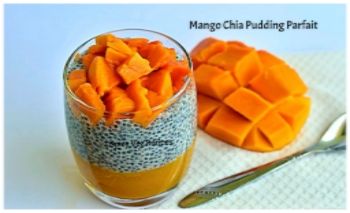 Mango Chia Pudding Parfait:
Main Ingredient: mango and chia
Level of cooking: Easy
Cuisine:
fusion, international
Ingredients
6

tablespoon

chia seeds

2

cup

unsweetened almond or coconut milk

1

Tablespoon

sweetener

1/2

teaspoon

vanilla extract or cinnamon powder

3

cup

mangoes

peeled and chopped

1

cup

mango

peeled and cubed
Instructions
Combine chia seeds, milk, sweetener and vanilla in a glass container or mason jar and let set up at least one hour or overnight in the fridge.

Place 3 cups chopped Mangoes in a blender and process until pureed.

You can strain it through a fine mesh strainer.

Take two glass and create the parfaits by adding a layer of mango puree evenly into 2 glasses or bowls. Allow it to set in the fridge for 30 minutes.

Divide chia pudding into 2 and pour over top of mango purée evenly.

Finally, Top each parfait with mango cubes.

Mango Chia Pudding Parfait is ready to serve, serve chilled.
Recipe Notes
*For extra protein, add 1/4 cup greek yoghurt to the chia pudding.
If you have difficulty with fruits you can sub a fruit of your choice in this recipe.
Fresh or frozen mango both will work here. The consistency should be like a thick smoothie.
More mango recipes from this blog you might like please do check:
Mango Lemonade
Mango salsa
Aamras
(Visited 250 times, 1 visits today)