Basic Chia Seed Pudding |Chia Seed Pudding
Basic Chia Seed Pudding:
Today I am going to share a recipe of the chia pudding that you can build upon with all your favourite toppings and flavours, with options for low carb, keto, paleo, and vegan diets, this simple breakfast or snack will quickly become a favourite. This is the base Chia Seed Pudding recipe that you can use to create all kinds of chia puddings using your favourite fruits, nuts, yoghurts, seeds, and spices.
Chia pudding is an awesome meal-prep option. These are packed with fibre, protein, Omega 3 fatty acids, antioxidants, magnesium, and potassium and healthy fats, low in sugar.
As for the texture, it's like a thick, creamy pudding. Because chia seeds have no flavour so the pudding will taste like whatever liquid and mix-ins you're using. If you want the pudding to have a bit of sweetness you can add sweet flavourings like cinnamon and cardamom, vanilla extract and your sweetener of choice. I'm a big fan of honey so this basic chia pudding recipe has vanilla and honey added. Maple syrup is also a great option and if you need a sugar-free option, just skip the sweeteners all.
How long can I store chia seed pudding in the fridge?
Chia seed pudding can store in the fridge for about five days in an airtight container.
If you are adding fruit and other mix-ins, you may want to wait to add them until it is time to serve so they stay fresh and don't get mushy.
How long do chia seeds need to soak in milk?
Ideally, the chia seeds will soak in the milk or liquid for 3-4 hours for a thick and creamy chia seed pudding. If you are in a time crunch, you can make chia pudding in about 20 minutes. First, let them soak and sit for 10 minutes and then stir and let them sit for another 10 minutes. Although the chia seeds won't be fully hydrated, they will already have begun to gel.
For quick and smoother pudding you can also blend the chia seeds by just place everything in a blender and blend until smooth.
Is Chia Seeding Pudding low carb? Keto? Vegan? Paleo?
Yes, you can make chia seed pudding low carb, keto, vegan by picking the proper liquid and sweetener.
For low carb, keto diet always uses a low carb milk like unsweetened almond milk with no-calorie sweeteners like Stevia.
For a paleo chia pudding, use honey instead of maple syrup.
For a vegan chia pudding, use plant-based milk and either maple syrup or liquid sugar for your sweetener.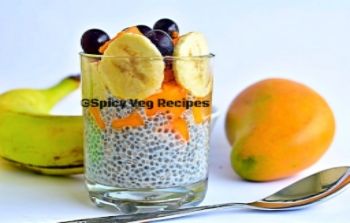 overnight basic chia pudding
Main Ingredient: Chia seeds and milk
Level of cooking: easy
Calories Amount per serving
:
186
kcal
Ingredients
6

Tablespoons

chia seeds

2

cup

unsweetened milk

coconut, almond or cashew milk (or other milk)

1/4

teaspoon

vanilla extract

or cinnamon powder, optional

1

Teaspoon

sweetener of choice

optional

fruits as per choice

for topping
Instructions
In a bowl or mason jar, mix together chia seeds, milk, sweetener and vanilla.




Once the chia pudding mixture is well combined, let it sit for 10 minutes.

Give it another stir to break up any clumps of chia seeds after 10 minutes.

cover and put the mixture in the fridge to "set-up" for 1-2 hours.

When ready to serve, divide the mixture between two bowls, top the pudding with fruits and enjoy.
Recipe Notes
You can also prep your pudding the night before and let it sit in the fridge overnight if that's easier.
For a chocolate version, add some cacao powder to the mix.

More chia recipes:
Enjoy!
(Visited 221 times, 1 visits today)