Vada recipe |ulunadhu vadai Recipe | How to make Medu Vada |Garelu
 Vada Recipe:
It is a popular crispy, tasty, urad dal fritter, they are specially served for breakfast or snacks served with sambar and fresh chutney. Garelu, uddina, ulunadhu, medu-vada are other south Indian names to these Vada.
I am sharing today a basic version, Which is specially devoted to the Goddesses at the time of worship. These vadas are prepared with simple ingredients, without onion and spices.
To make this, you just needed to add black pepper, cumin seed, asafoetida, green chilli and a pinch of baking soda into the dal mixture. Which makes them fluffy from inside, and crispy from outside.
More Recipes from this blog: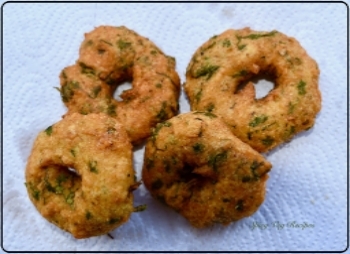 Vada Recipe | How to make Vada
Main Ingredients: black gram and oil
Level of cooking: medium
Recipe Type:
Snacks and breakfast
Ingredients
1.5

cup

urad dal

black gram

1/4

teaspoon

asafoetida

1/2

teaspoon

turmeric powder

1/2

teaspoon

red chilli powder

1

teaspoon

coriander powder

1/4

teaspoon

black paper power

2-3

cloves

1-2

green chilli fine chopped

optional

1-2

tablespoon

coriander finely chopped

oil to deep fry

Salt to taste
Instructions
Rinse and soak urad dal in enough water or for at least 6-8 hours.

Let the dal sit in a colander for 5 minutes for the excess water to drain off.

Add the green chillies, black pepper, clove, red chilli, turmeric powder, coriander powder, salt, asafoetida in urad dal and blend in a mixture to a smooth batter along with little water.

Transfer this paste into a large bowl.

Add chopped coriander and whisk well.

Heat the oil in a deep pan over medium heat.

Take some water in a small bowl next to paste to shape the vada.

Soak your fingers of both the hands in water and pinch a small portion of dal paste.

Hold it over your one hand fingers and flatten it using the other hand wet fingers.

Make a hole in the centre of the flattened vada.

Gently slip it on the pan of hot oil to deep-fry.

Deep fry the vada over medium-high heat till deep golden, crisp from both the sides.

Transfer to a plate lined with kitchen towel.

Serve them hot with chutney and tea.
Recipe Notes
For safety reasons, it is best to slide the shaped vada from the sides of the pan.
Enjoy!
If you liked this, please share. Thanks!
(Visited 58 times, 1 visits today)