Coconut and Melon seeds Katli-easy Katli Recipe-
Nariyal Magaz Katli
Nariyal Magaz Katli is a very popular Indian sweet dishes, generally prepared for Laddu Gopal (Lord Krishna) on the occasion of Janmashtami. Nariyal Magaz Katli is a tasty, soft coconut dessert that is easy to prepare, and this recipe requires few with ingredients.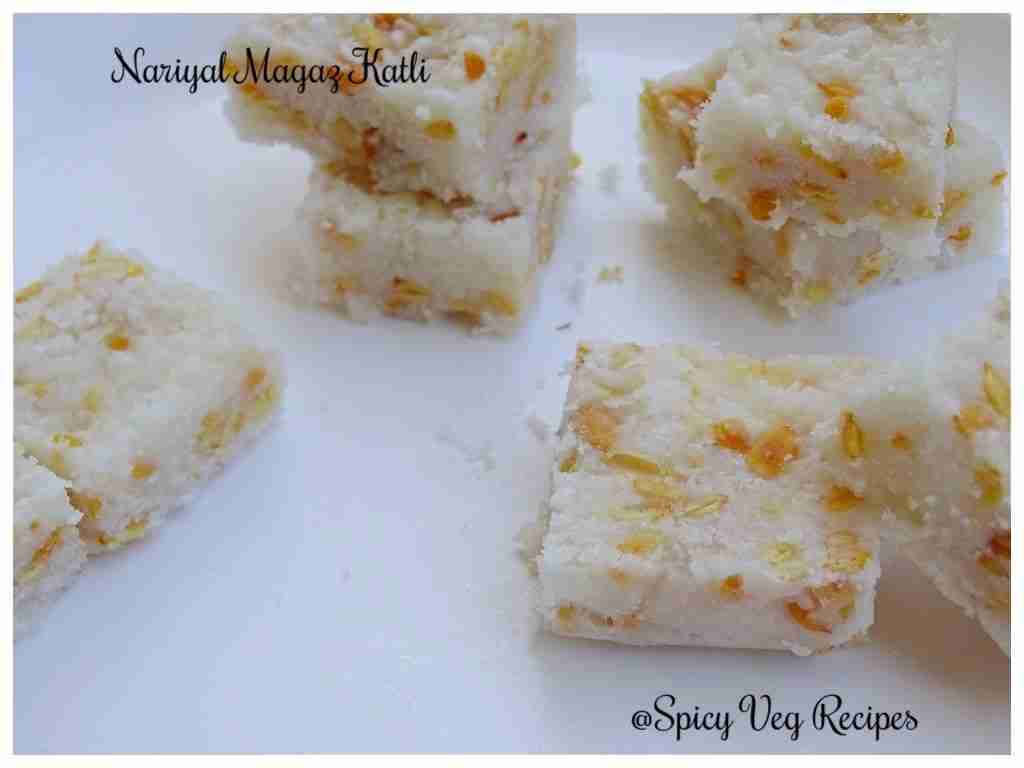 Nariyal Magaz Katli Recipe
Main Ingredient: Coconut, Melon seeds, and sugar.
Level of cooking: Easy
Ingredients
1.5

cup

grated or desiccated Coconut

1/2

cup

melon seeds

1

cup

Sugar

1/2

cup

Water

1/2

teaspoon

cardamom powder

A greased plate to set the Katli/Paak

1/2

teaspoon

ghee or unsalted butter
Instructions
Preparation:
Take 1/2 teaspoon of ghee in a pan over low heat and add the melon seeds.

Stir fry on low heat till they start crackling.

Cover the pan with a lid to avoid splattering.

Remove from the pan and set aside to cool.
Method:
In another pan, warm the water and sugar together over Low heat till the sugar dissolves.

Once the sugar dissolves, let the syrup boil over medium-high heat till it reaches to 2 string consistency.(*stir the sugar syrup at regular intervals.)

Now switch off the flame.

Add roasted Melon seeds, cardamom powder and coconut into the sugar syrup and mix well.

Now transfer this mixture to the greased plate.

Allow it to cool down for 30 minutes in refrigerator or till it set.

Cut into pieces of the desired size using a sharp knife.

Nariyal Magaz Katli is ready to serve.
Recipe Notes
The consistency of sugar syrup must be perfect otherwise either the paag/paak will not set at all or become so hard. Mixing and spreading process should be done quickly otherwise, it may harden before spreading.
 Enjoy!
If you liked this, please share. Thanks!
(Visited 216 times, 1 visits today)