Mango Sandesh Recipe| How to make Mango Sandesh| Mango Sandesh
Mango Sandesh:
Sandesh is one of the most popular Traditional Bengali desserts which are generally prepared during festivals and special occasions. Traditionally Sandesh is made with fresh homemade chena and sugar, but I added some mango pulp in Mango Sandesh recipe to give it a twist.
You can also try your favourite flavour like strawberry, Rose Syrup, Chocolate, pineapple, etc.

If you are looking for more recipes from the blog Please do check:
Kesar Peda
Til Ladoo
Ragi Ladoo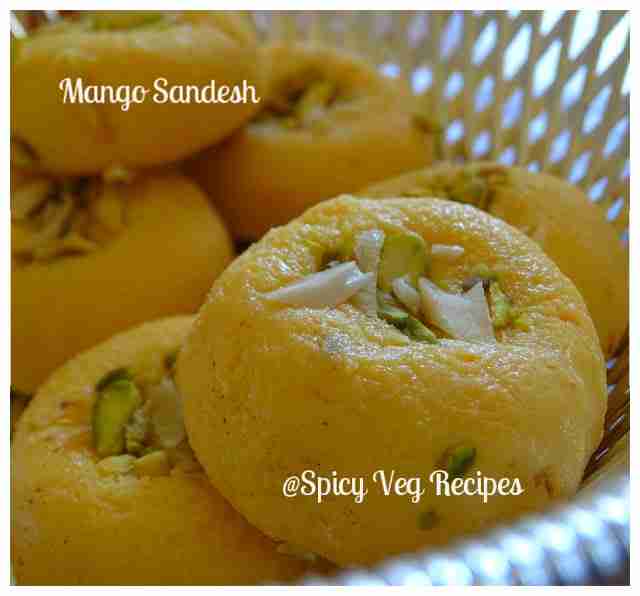 Mango Sandesh Recipe| How to make Mango Sandesh
Main ingredients: Chenna and mango pulp
Level of cooking: Medium
Recipe Type:
sweets & Desserts
Calories Amount per serving
:
120
kcal
Ingredients
2

cup

fresh Chenna

1

cup

Mango pulp fresh

or canned

1/2

cup

Sugar

or to taste

2

tablespoon

sliced pistachio and almond or as per your required

1/2

teaspoon

Cardamom powder

optional
Instructions
Preparation:
For chenna:

Take 2-liter full-fat milk for 2 cup chena in any heavy bottom utensil for boiling. When milk starts boiling turn off the heat and lets it cool down. Keep it 80% hot. Add this lemon juice in milk and stir well. The moment when milk curdling stop uses more lemon juice in the milk. Pour the curdled milk on any cotton cloth. Strain the whey. Fold all the 4 sides of the muslin cloth and twist it gently so that all the whey that is in the milk solids gets evenly drained out. Gather the cloth from all 4 sides and squeeze the chenna lightly about 3 to 4 times so that most of the whey gets drained out. Take out the chenna onto a clean plate and press gently so that it is free of lumps and take care not to apply too much pressure.

Method:
In a pan cook, sugar, and mango pulp until the sugar melts and mango pulp become thick.

Add chena in the cooked mango pulp and stir continuously until it becomes thick.

Add cardamom powder, almond and pistachios in the mixture.

Cook until it gets a thick consistency and has left the sides of the pan.

Remove from the flame and transfer to a plate, mash well to remove the lumps; it should have the consistency of soft dough.

Use the prepared dough immediately for making a shape.

Garnish with pistachio and almonds.

Mango Sandesh is ready to serve.
Enjoy!
If you liked this, please share. Thanks!
(Visited 200 times, 1 visits today)